Get yourself pampered like a royal during your stay at one one of these 5 hand-picked luxury palace hotels in India.
Before the partition of India in 1947, there were around 584 princely states. All these princely states were formally part of British India. Hence, one can imagine that the country must have several big and small royal palaces. Many of these glorious palaces have now been converted into luxury hotels and staying in one would make you feel like a royal. These palace hotels managed by renowned hotel groups do provide all the modern amenities along with the experiences of the bygone era.

Pichola, Udaipur, Rajasthan 313001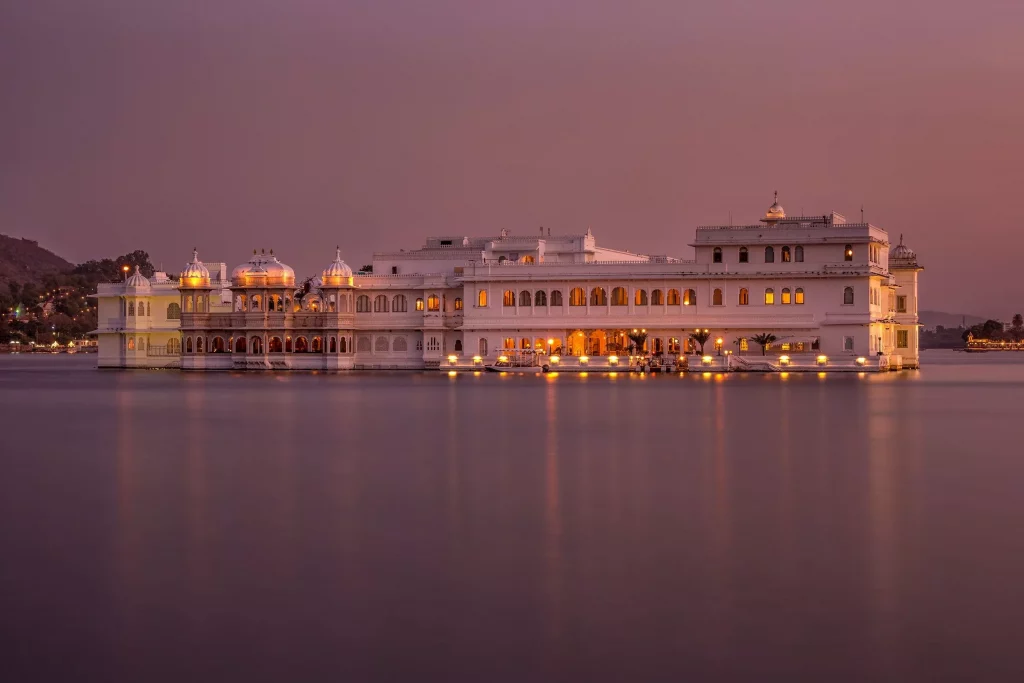 Photo: Руслан Кальницкий | pexels.com
Jag Niwas, a jewel floating in the middle of Lake Pichola, now known as Taj Lake Palace is a royal residence made of marble.
This was constructed between 1743-1746 by Maharana Jagat Singh II. This was used as a summer retreat by the Mewar Royal family over years until Maharana Bhagwat Singh, Mewar of Udaipur in 1963 converted it into a heritage luxury palace hotel.
Architecture influenced from Mughals, predominantly lead by Mewari techniques, this palace hotel in Udaipur has 65 luxurious rooms and 18 grand suites. Restored to its pristine glory, this spectacular palace became world renowned when the James Bond movie 'Octopussy' was filmed here.
Its location on an island in the middle of the Lake provides amazing views of the nearby City Palace, Aravalli Hills, Machla Magra Hills, and Jag Mandir. The magnificent setting is the ideal  for the delicious cuisine served at Taj Lake Palace's fine restaurants, which are solely available to resident guests.

Chauth Ka Barwara, Rajasthan 322702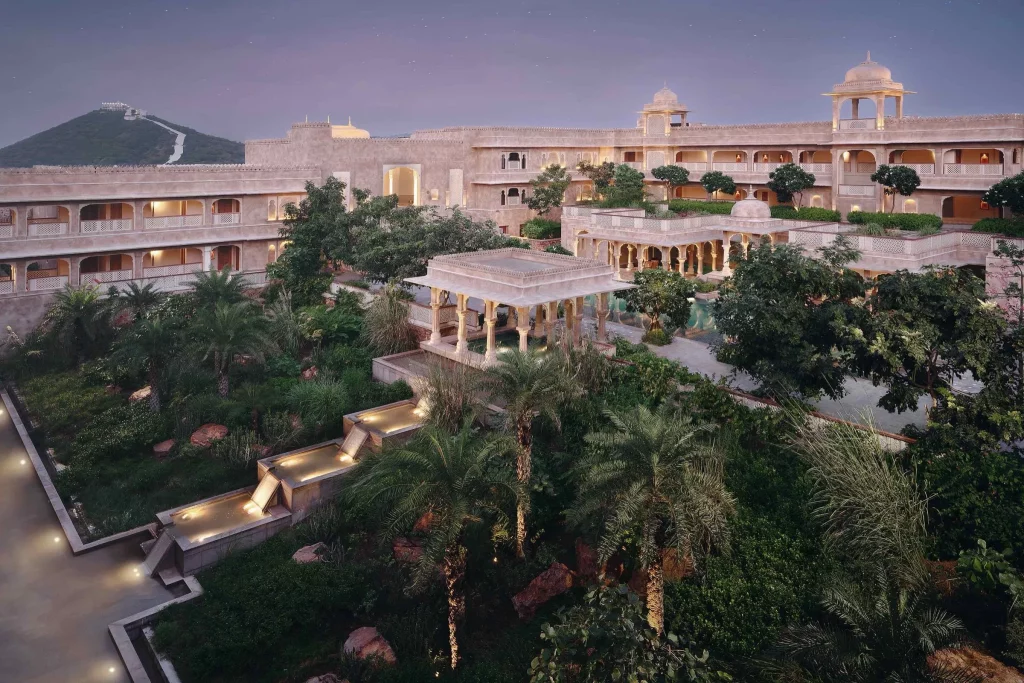 A stunning 14th-century fort that has been tastefully turned into a Six Senses well-being retreat. It was once owned by a Rajasthani royal family and overlooks the Chauth ka Barwara Mandir shrine.A substantial renovation operation within the fort's walls comprises two palaces and two temples.This luxurious palace hotel in Rajasthan was designed to replicate the elegant and regal aura of a bygone age stretching back 700 years.

Umaid Bhawan Palace, Jodhpur
Circuit House Rd, Cantt Area, Jodhpur, Rajasthan 342006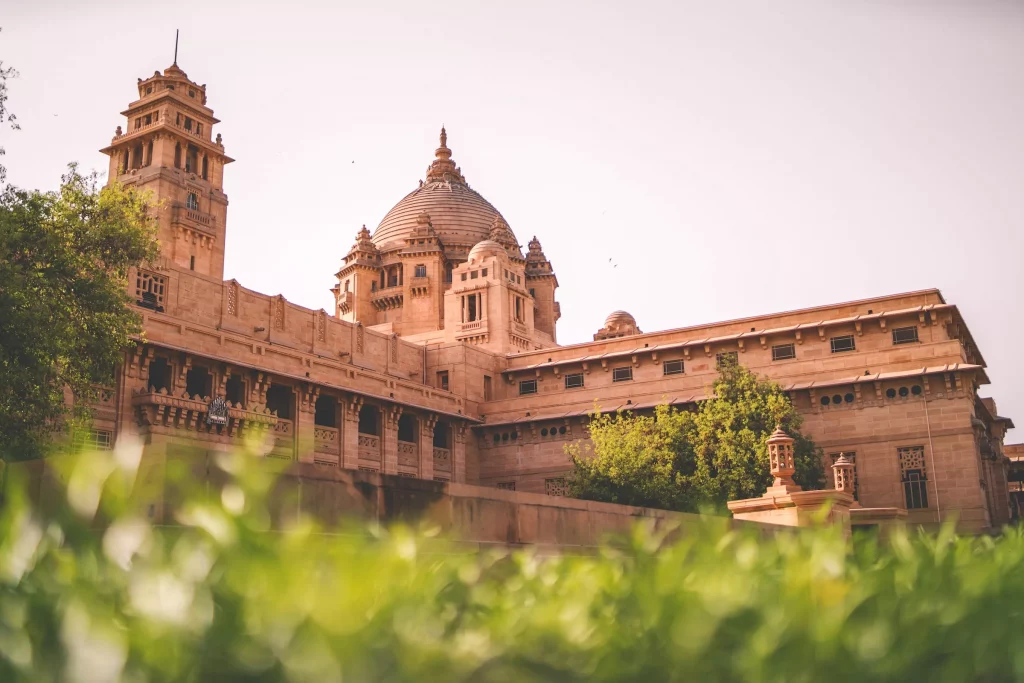 PHOTO: Ankit Gupta | pexels.com
Umaid Bhawan Palace, the former home of the Jodhpur royal family and the world's sixth-largest private house, was constructed between 1928 and 1943. This exquisite piece of Rajasthani tradition serves as a symbol of modern Jodhpur.
The palace has one thing in common with the iconic Taj Mahal at Agra, marble used in its construction. Perched on Chittar Hill, the highest point in Jodhpur, this luxury palace hotel inspires with exotic views of the historical Blue City, vast sand dunes, and intimidating Mehrangarh Fort.
This heritage palace hotel in Jodhpur is conveniently located 20 minutes from the airport, close to the main shopping areas, and the Balsamand and Kalyana lakes. The last of the great palaces of India, the property houses a family museum which is open for the public.
Set amidst 26 acres of lush gardens, with dancing peacocks and a subterranean Zodiac Pool, this 5 star hotel in Jodhpur offers 70 utterly breathtaking royal rooms and suites.
Staying here, one can relive a fascinating bygone era brought to life through majestic monuments and discover the rich history of a palace that has enjoyed actual royal company. Experience luxury just like the royals did.

Taj Falaknuma Palace, Hyderabad​
Engine Bowli, Falaknuma, Hyderabad, Telangana 500053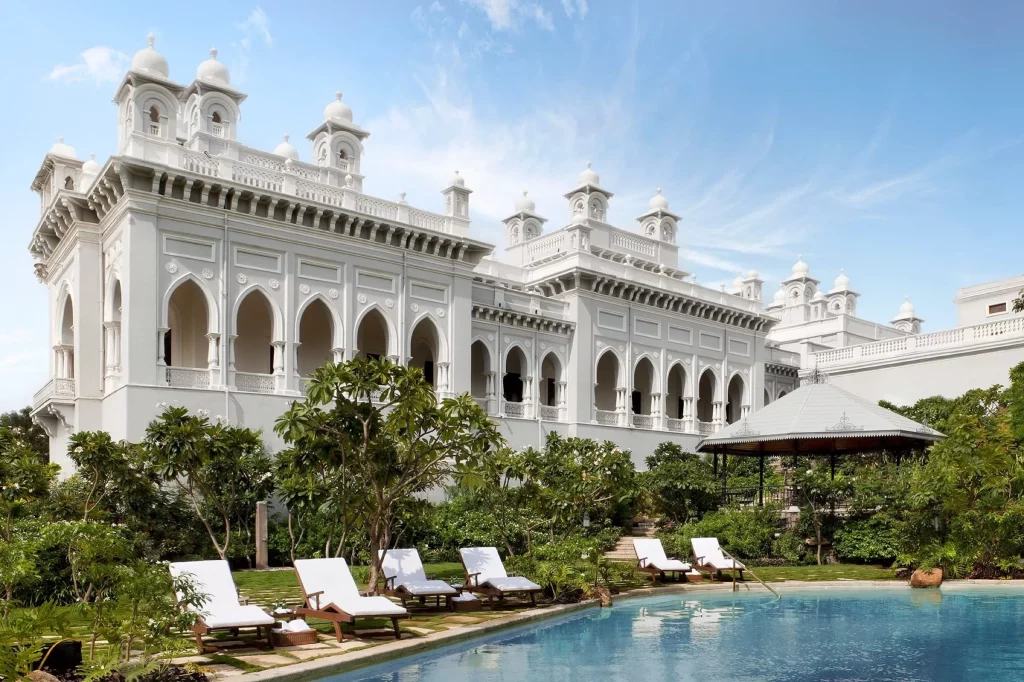 It is the old palace of the Nizam, who was once rumoured to be the richest man in the world.a jewel amid the clouds perched around 2,000 feet above the city of Hyderabad, has been leased by the Royal Family of Hyderabad to the famous Taj Group of Hotels to manage and run this luxury palace hotel.
This magnificent royal hotel in Hyderabad oozes romance and grandeur reminiscent of the Nizam's reign over Hyderabad. Palace butlers ensure that guests are treated like royalty from the time they arrive in a horse-drawn carriage at Taj Falaknuma Palace. The majestic staircase allows you to retrace the steps of Nizams, European royalty, captivating Begums, and illustrious Heads of State.
The luxury palace hotel which is spread over 32 acres and has 60 rooms and suites were beautifully refurbished and lovingly restored by her highness princess Esra, the Nizam's turkish wife. Each room offers breathtaking views of the royal courtyard and Hyderabad's 400-year-old city.
The beautiful Durbar Hall, Jade Room, and enormous 101-seater dining hall, as well as several gardens and terraces, provide regal splendour to celebration gatherings and elegance to business meetings. This palace also has a library with an extensive collection of books and rare manuscripts.

Bhawani Singh Rd, Rambagh, Jaipur, Rajasthan 302005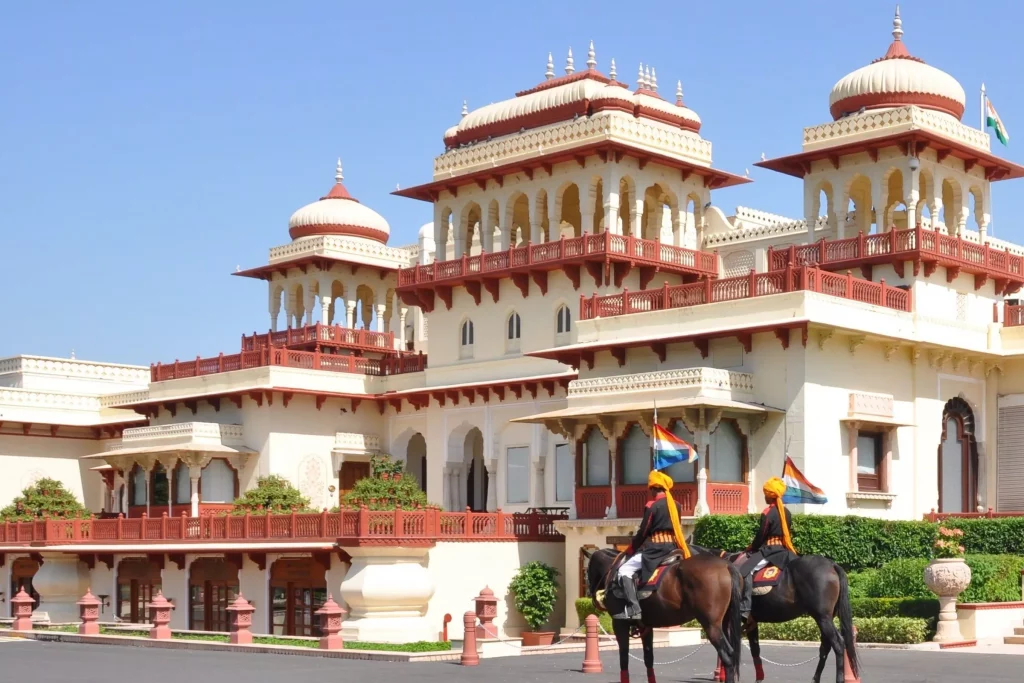 Rambagh Palace, which was built in 1835, has smoothly transitioned through numerous royal transitions, from the home of the queen's favourite handmaiden to royal guesthouse and hunting lodge, and later as the residence of the Maharaja Sawai Man Singh II and his queen, Maharani Gayatri Devi.
Today, this jewel in the Taj's crown provides 78 wonderfully refurbished luxury rooms and suites in Jaipur that were the previous Maharaja's bedrooms. The palace preserves its ornate magnificence, lavishly embellished with hand-carved marble latticework, sandstone balustrades, cupolas and cenotaphs, and magnificent Mughal Gardens.
Within this most spectacular of palaces reflecting the finest of Rajasthan's royal heritage, you will also find the best fine-dining restaurants in Jaipur. Suvarna Mahal, a historic palace ballroom built in the 18th-century French architecture with massive crystal chandeliers, serves a regal Indian feast.
The luxurious palace hotel in Jaipur near the Hawa Mahal offers the ideal package for once-in-a-lifetime celebrations. It has hosted various notable guests throughout the years, including Lord Louis Mountbatten, Prince Charles, and Jacqueline Kennedy. Experience, as they have, the best traditions of Rajput hospitality.
If you're planning a trip to Jaipur and want to stay in a luxury palace hotel, have a look at the itinerary below, where we recommend staying at the Rambagh Palace.